New Horizon Music studios
Stroudsburg's Premier Music lesson center and music recording studio
looking for music lessons near Stroudsburg pa? meet our instructors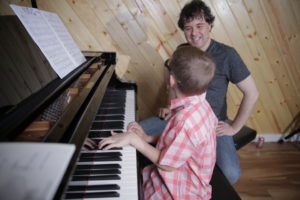 Gary Wehrkamp is a multi-instrumentalist, teacher, composer, sound designer, audio engineer, and producer. Gary has been teaching, performing, and producing for over 30 years. At the age of 18, he toured with The Boxtops. He performed in venues such as Yankee and Giant Stadium; Central Park Boathouse; The Red Lion; The Players Club; etc. Gary played, produced, and toured with the progressive rock band Shadow Gallery. Gary also toured Europe as a bassist with Warlord. Gary Wehrkamp has extensive, diverse musical experience. As a result, Gary and his qualified teachers want to invest in the musical success of their students.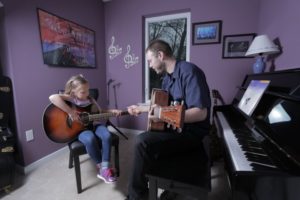 Joe has been taking private music lessons for the past 23 years and hasbeen teaching privately for the past 8 years. He is one of New Horizon Music Studios' former students and has a wide variety of musical knowledge and techniques. Joe uses Gary Wehrkamp's "rich in love with you" style infused with his own. This allows him oe performs locally with The Route 3 Project as well as his own original projects. His playing can be heard on SHADOW GALLERY's Room V album as well as on AMARAN'S PLIGHT's album Voice In The Light.
Joe is also currently taking private engineering lessons and is an intern at New Horizon Music Studios' recording facility.
I give New Horizon my highest recommendation. Gary is much more than a teacher, he is a teacher of teachers. He inspired my boys to be great musicians, teachers, and individuals. I have nothing but respect and admiration for Gary, Ginger, and all the instructors at New Horizon Music Studios. If you're looking for a great learning experience, they are the best!!!
"He plays at an extremely high level pretty much any instrument. In addition to that, he's able to write material, get it recorded and then also step back as a producer and objectively look at what is there and do what is right for the music. What he turns out from his studio is really top notch in terms of quality, the instrumentation, the audio, all excellent. I've also had the occasion to hire Gary as a guest musician on projects and everyone that has worked with him made comments about how easy he was to work with and the high quality of what we got back."
Shawn Gordon
President of ProgRock Records
"I discovered Gary Wehrkamp demonstrated the caliber of musical skills and teaching abilities you would find exclusively at prestigious music schools or in big cities. As a guitar, piano, drum, and recording student of Gary's for over ten years now, all I can say is that Gary is THE BEST! I would highly recommend Gary to anyone looking to become a better musician."
New Horizon Music Studios
2110 Helen Street
Stroudsburg PA 18360
570-371-6672